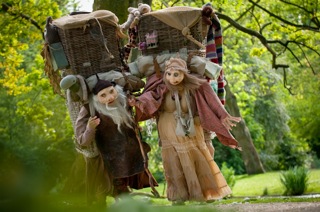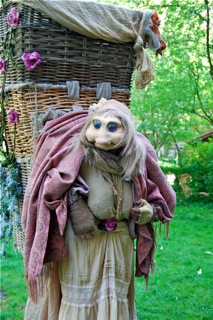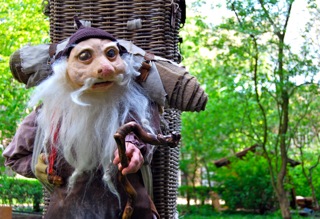 Jøttnjøl come from afar. Where they come from,
or where they are heading no-one knows.
But they are here now.
Their curiosity is boundless, they gather the odours and colours of life and wonder about everything you carry with you or leave behind.
Who still cherishes treasures found at the beach, long long ago? Who still has them? That very first marble, or maybe the last one? A paperclip, a dried flower, a lucky stone.
Ordinary yet extraordinary things
Personal treasures, that don't fit in the life of a grownup.
Jøttnjøl love to take care of your and their treasures, they have enough room to care for all of them.
They roam the streets and alleyways looking for more treasures, searching for the ultimate sensation of warmth and safety, Jøttnjøl, a special encounter, will find a place in everyone's heart.
Jøttnjøl is a puppetry walkabout act. Two distinct creatures on their way, with enormous baskets filled with gathered adventures.
They've never finished collecting: after all, everything is of value.
Street theatre with a poetic disposition. Unique and endearing.

Winter Jøttnjøl
Their baskets filled with X-mas feelings will Jøttnjøl bring you Light and Warmth during these dark days. They look for happiness in small things. Together.
Exclusive at Totaal Theater here.
Merkel & Vannix
Merkel & Vannix form a street theatre company that defines itself by the emphasis on the visual aspect of street theatre. Their designs are like their performances, an amplification of the customary and habitual, inviting the public to view their own everyday life at a different angle.
Merkel & Vannix's imagery implores upon the techniques of the Commedia dell'arte, puppetry and object theatre.
In Jøttnjøl the performers disappear completely, and the communication with the public is only possible through the world of the puppet.
Merkel & Vannix and the future
Jøttnjøl is the first independent cooperation of Gijs Vennix and Tim Velraeds, though they have been responsible for many a street theatre act, including the winner of the street theatre festival in Alkmaar with "DonQzot"(Donkey de la Mancha) , the Efteling production "Vreemde Vogels" (Strange birds) 2006 and the ever popular walkabout act "Sahara'hara" by Tiramisu.
Jøtnjøl stands at the beginning of a hopefully fruitful cooperation, and other acts are already in the making….
Soundscape: Ton Derksen