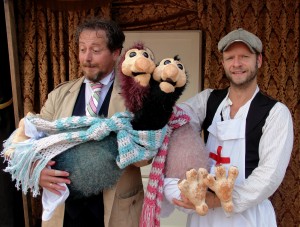 De wetenschap staat voor niets, een wereldwijze professor en zijn kundige assistent brengen ons de resultaten van hun baanbrekend onderzoek: de laatste dodo's.
En omdat de laatsten de eersten zullen zijn zoeken ze uw hulp: avontuurlijke vaders, broedse moeders en kinderen die goed kunnen stilzitten zijn ideaal. Laat deze twee heren u voorlichten in de vele wonderen en voordelen van de kweek van deze zeldzame vogels.
The Dodo-O-ologists
Science knows no boundaries, a know-it-all professor and his nimble assistent bring us the results of their groundbreaking research: the last Dodo's!